HRCH Gator Point Colorado Aces High MH ("Ace")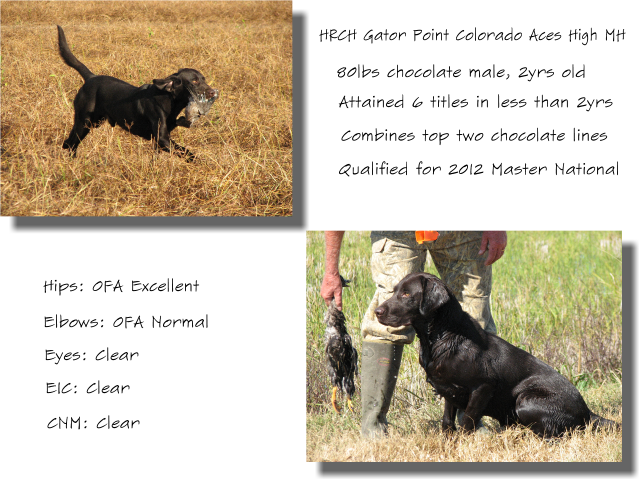 Standing Proudly at Stud

HRCH Gator Point Colorado Aces High MH, known around Autrey Kennels as Ace is a young, early maturing, dark chocolate (two years of age) who's carrying on the legacy of his father, Gentle Ben.
Ace is a consistent performer. In 2011, Ace set the retrieving world on fire. He obtained his Junior Hunter, Senior Hunter, Master Hunter and has qualified for the 2012 Master National. He also got his Started Hunter, Hunting Retriever and Hunting Retriever Championship titles with the UKC. That is 6 titles in a little more than one year.
The willingness to please is built into this 80 pound male. Ace is steady and quiet at the line or in the duck blind, but is all business when released to retrieve. He runs hard on both marks and blinds on land and water – a very talented marking dog. Talent, ability, style, desire and looks: it's all there - in Ace.
Ace has hunted upland and waterfowl from the freezing waters of Colorado all the way to Louisiana. He will continue his training to obtain his Grand title with the UKC at Autrey Kennels.
Ace stands proudly At Stud with association of Autrey Kennels. He has frozen semen available but is also available for natural breedings. For additional information, contact either Bill Autrey, or Ace's owner, Mandy Cieslinski.
Contact: Mandy Cieslinksi
Phone: 303-506-7572
Email: mandy_cieslinski@hotmail.com