Omega
replica watches uk
new Iron Fighter watch, whether from the
uk replica watches
appearance, performance and even price are impeccable, it can be said that this year's most cost-effective one watch. The
replica watches online
uses a 40 mm stainless steel case, concise and elegant design, this model uses a
rolex replica uk
vertical matte black dial, vintage hour scale surface coated with Super-LumiNova luminous coating.
Transportation
The dog truck is currently a 2011 Ford F-350 Super Duty crew cab one ton chassis, with a special built Jones Company box.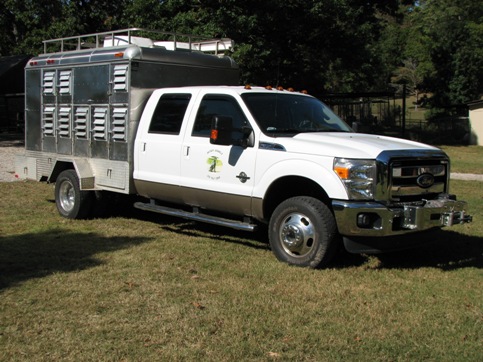 This box is designed to be as comfortable as possible for the dogs. Larger than normal kennels make it possible for a dog (even as big as Cody) to be able to stand up and turn around in. With 3 inches of insulation in the roof, and 1 inch in the floor and walls, it is comfortable in the summer heat, or the cold winter.
With dogs on the trucks for weeks at the Grand or Master National tests, we (Jones and I) wanted to insure that they were as comfortable as possible. Two fans on the truck provide air circulation for the dogs, and the 2nd is a backup for the 1st. An onboard water supply tank holds enough water for 2 days. The tank is located in the air passage, which helps to cool the water.
We started out with a 12 hole box, but, shortly after the first year, we opted to increase capacity to 16 holes in all. Jones Trailer Company added 4 more dog holes, tripled the storage in the bumper, and added dual tires and fenders when we went back for the modification. I have been extremely pleased with the way they work with me.
Upgrading to a newer model:
"In December of 2010 I traded for a new dog truck. The 2001 F-350 had 275,000 miles on it and, while still ran good h,ad left me on the side of the road with minor problems. The 2001 was sold to a farmer to haul hay with, and I purchased a 2011 F-350 white dually diesel to put under the old dog box. In January of 2011, I took both trucks over to Jones Trailer in Woodson, Tx to have them do the swap for me. They installed all new mount bolts, changed all floor mats, changed out several hundred rivets and replaced a couple of doors that were showing age. They wired it all up, hooked the back up camera up on the dog box and replaced the fuse block."
"If all goes well, I should be set for another 10 years, as the dog box now shows very little wear and the new truck pulls strong. I added 2 extra leafs to the rear springs (as my dog box is extra heavy), put on a new winch bumper and installed the old winch on the new truck. I really enjoy the heated and cooled leather seats, as they are easy to keep up, and love the Sirious radio, especially coming in late at night after running a weekend hunt test (helps me stay awake). Fuel milage with the new Ford diesel engine is 2 to 3 miles per gallon better than the old truck."

- Bill Autrey